Chimney Sweep & Inspection in Ellicott City, MD
At All Pro Chimney Service, we're proud to offer residential chimney sweep and inspection services to homeowners here in Ellicott City. If your home has a chimney, having regular inspections and chimney sweeps should be an important part of your regular home maintenance. When you trust our team at All Pro Chimney Service for your chimney inspections and sweeps, you can sit back and relax while we make sure your home's chimney is cleaned and in safe working condition. Hiring a professional can also free up some time so you can enjoy the many activities that Ellicott City has to offer, such as spending a day at beautiful Centennial Park or exploring the B&O Railroad Museum.


Why You Need a Chimney Sweep
When you use your home's fireplace, the chimney can develop a build-up of creosote over time. With enough creosote build-up, unfortunately, a fire risk can occur because creosote itself is flammable by its very nature. This is one of the most important reasons to schedule regular chimney sweeps. When you have a professional sweep done, we'll carefully remove creosote build-up as well as clean out the rest of the chimney flue to maximize ventilation and safety. From there, you can continue to use your home's fireplace with confidence! How often should you schedule chimney sweeps in your Ellicott City home? This will vary depending on how often you use your fireplace, as well as the recommendations on your specific fireplace. A member of our chimney sweep team can give you a more specific recommendation on how often sweeps should be done at your home.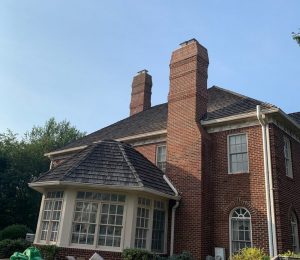 Types of Chimney Inspections
Regular chimney inspections are just as important as chimney sweeps. Specifically, an inspection can help to detect ventilation problems and other potential issues with your Ellicott City home's chimney function. Often times, we recommend scheduling an inspection around the same time you would schedule your chimney sweep services. This way, we can complete everything in one appointment. During your chimney inspection, our team of professionals will:
document (with photos and video) any problems with your chimney
inspect the flue for any specific defects
perform any necessary cleaning or sweeping
go over our inspection findings with you
We offer three different levels of chimney inspections to suit your needs. All chimney flues should have, at the very least, a Level 1 inspection once a year. This involves verifying the integrity of the structure, as well as making sure the flue is free of any flammable deposits such as creosote. At All Pro Chimney Service, we include this basic inspection with all of our cleanings. A Level 2 inspection takes things to the next level by inspection parts of the attic, crawl spaces, or basements. In some cases, a video inspection of the flue system itself may also be performed. Finally, a Level 3 inspection checks all aspects of the chimney, including its construction, condition, and function. This type of inspection is recommended when a hazard is presented and its source needs to be narrowed down. Ready to schedule a chimney sweep and/or inspection with All Pro Chimney Service? Give us a call today to get started!
Chimney Sweep & Inspection Service Areas
Anne Arundel County | Baltimore, MD |Calvert County, MD | Carroll County, MD | Charles County, MD | Howard County, MD | Montgomery County | Prince Georges County, MD | Silver Spring, MD | Virginia |
Washington DC