Many homeowners the Washington DC Metro area want to enjoy the increased value and comfort from having a fireplace installed. Unfortunately, the wide selection of fireplace options available today, can make this a confusing process. One of the sources of this confusion is understanding fireplace terms. It is hard to make the right fireplace decision if you do not know understand the terms that are being used by your fireplace supplier and installer.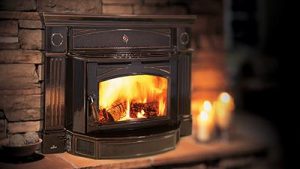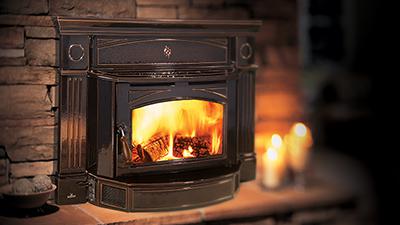 Local fireplace and chimney installation companies like ours will help you select the best products for your particular installation. This guide will help you find a quick definition of many of the terms that are frequently used by installers. You may want to visit our fireplace FAQ for additional helpful information.. This guide will give you a clear understanding of common fireplace terms but will not cover chimney repair terms that were covered in our previous article concerning chimney repair terms.
Fireplace Terms from A to Z
AFUE — Annual Fuel Utilization Efficiency, a measurement used for rating wall heaters and furnaces as an official heat source.
Ash Pan — A metal tray designed to catch and hold ashes falling from solid fuel fires for easier cleaning of the fireplace.
Air Vent — A small vent in the wall sometimes needed for gas fireplaces.
Agean Limestone — limestone from the Agean region of the Mediterranean, highly valued for its density and often used in fireplaces and surrounds.
Andiron/Bars/Dogs/Firedogs — decorative iron bars that hold logs or coal and help air flow to the fire.
B Vent/Natural Draft Appliance — a system without a sealed combustion chamber that uses a single wall flue to vent.
Bellows — a device for blowing a controlled blast of air to stoke a fire.
Blue Flame Rectification — safety shut-off controlling and maintaining gas flow.
BTU — British Thermal Unit, used to measure heat.
Builders Opening — the precisely measured hole in the wall or chimney breast where the fireplace will go.
Burner — device containing orifice, mixing tube, and burner head where gas and air can safely combust.
Burner Ports — holes in a gas burner where gas/air comes out.
Carbon Dioxide — gas produced by complete combustion.
Catalytic Combuster — a device used to reduce the temperature at which smoke is ignited.
Casting/Cast Iron/Brass/Steel — the process where molten iron, brass, or steel is poured into a mold to produce solid pieces.
Chenet — one-piece unit to hold logs similar to an andiron, connected by a fender across the front, commonly just inside the firebox.
Clearview — fireplace with glass doors for viewing flames.
Combination Fireplace — unit with attached shelf needing no separate surround.
Carrara Marble — popular marble prized for its natural veining.
Carbon Monoxide — the poisonous gas product of incompletely burning fuels that should be safely vented in all installations by a certified professional.
Clearance — the measured space required by law to keep combustible surfaces a safe distance from fireplaces and other heat-producing units.
Ceramic Fiber Back — lightweight fireback used in tiled gas fireplaces to reflect heat into the room.
Decorative Gas Fire — appliance with living flame used for decorative purposes rather than heating.
Electric Insert — used where there is no chimney to simulate a heat-producing fire of coal or wood.
Electronic Ignition — installed electronic device for lighting a fire.
Emissions — by-products of combustion.
EPA Regulations — federal rules mandating emissions from wood burning appliances.
Fender — the low metal guard at the front of an open fireplace that keeps the burning logs or coal from falling into the room.
Fire Back/Fireback — the panel at the back of the fireplace designed to reflect heat into the room and protect the firebrick in the chimney.
Fireplace Insert — a unit designed to fit behind pre-built surround used with solid fuel, gas, or electric.
Fire Basket — a free standing device holding burning solid fuel.
Fire Box/Firebox — space where the fire actually burns.
Fire Stops — noncombustible devices sealing openings between floors to stop smoke & fire from spreading.
Fireguard/Firescreen — device preventing sparks from escaping fireplace and young children from reaching fire.
Fireplace Surround — decorative material (wood, brick, stone, tile, etc.) on the wall around the fireplace opening.
Free Standing Fireplace/Stove — compact appliance that sits away from the wall, normally on legs or a pedestal.
Front-view Fireplace — traditional fireplace built into the wall.
Gas Cock Assembly/Valve Control — combination valve controlling supply of gas to the fireplace.
Gas Insert — a gas-burning unit installed into an existing fireplace. This is a popular option for gas fireplace installation.
Gas Log — simulated logs and frame creating an open gas flame in a fireplace.
Glass Doors — a device used to close the opening of the hearth and keep heat from escaping through the chimney.
Grate — cast iron or steel frame holding the burning fuel.
Grate Polish/Black Lead/Zebo — traditional polish used on cast iron stoves and fireplaces.
Hearth — traditionally refers to the floor of the fireplace and non-combustible shelf in front of it but now also refers to all devices and equipment connected to the fireplace/stove industry.
Kindling — small pieces of dry wood that easily ignite to start a fire.
LP/LPG — Liquified Petroleum Gas, separated from wet natural gas, light crude oil, and oil-refinery gas into a colorless, odorless, non-toxic gas.
Manifold Pressure — amount of wc inches supported by various types of gas.
Mantel — Shelf above the fireplace or ornamental facing surrounding the opening. Many people like to decorate their mantels.
Multi-fuel — appliances designed to burn a variety of fuels.
Multi-view — fireplace offering multiple sides for viewing the fire.
NG/Natural Gas — colorless, highly flammable gas with high energy value.
Oxygen Depletion Sensors — safety devices detecting dangerous lack of oxygen, triggering shut off of appliance.
Pellets — man-made solid fuel designed for specific appliances. Pellets are often used in pellet stoves.
Piezo Starter — red button placing pressure on the crystal of a standing pilot system.
Pilot — small flame used to ignite gas at the burner.
Propane — a type of petroleum gas (LPG) in liquid form, also can be found in gas or vapor form.
PSI — pounds per square inch
Safety Pilot/Standing Pilot System — a safety device stopping the flow of gas to the appliance until needed and providing a small flame to ignite the main burner.
Seasoned Wood — fuel wood that has dried 6-12 months for optimum use.
Simulated Embers — a non-combustible decorative feature that looks like burning coals.
Solid Fuel — wood, coal, or pellet fuel that must be used in a unit designed for the particular fuel.
Spark Arrestor — a screen in front of the fireplace opening that keeps sparks inside, also the mesh placed on top of the chimney for the same purpose.
Spillage — dangerous backup of flue gasses into the building.
Spill Switch — a device used to detect spillage of flue gas.
Therm — a unit of heating value equal to 100,000 BTUs.
Thermo Sensor — automatic control of blower based on temperature.
Unvented/Vent Free — an appliance theoretically designed to burn so efficiently it needs no venting.
Wall Thermostat — electrical switch with sensors to maintain temperature by turning heat sources on or off.
WC/Water Column — unit of measurement of gas pressure: 28 WCS are in one pound of PSI.
When you are selecting a new fireplace for your home, be sure you understand what the salesman and installers are talking about. This list should help, but when in doubt, ask for an explanation of any term that is confusing. A professional in the fireplace industry should be able to answer all your questions before you decide which fireplace is best for you and your family.