5 Tips For Hiring A Chimney Sweep In Washington DC
There are a lot of cleaning that you can do around your home on your own. However, when it comes to cleaning your chimney and making sure that it is in the best condition possible, you want to rely on a professional chimney sweep in Washington DC. After seeing
these signs
that you need a cleaning, it is important to hire the right chimney company.  In Washington DC homeowners want companies like
ours
that will do the job right at a competitive price.  Here are some tips for hiring a chimney company in Washington DC.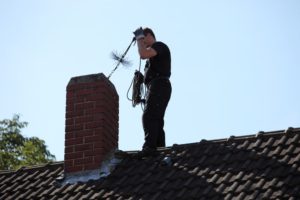 1. Look for a company that believes in preventing problems
A good chimney sweep looks for future problems in addition to the existing chimney.  Some chimney companies only look for blaring problems.  They ignore minor problems in the hopes that they can charge more when the minor issue becomes a major problem later.  The best chimney sweeps look for signs of future problems and make recommendations.  Doing so often results in lower repair costs. It is always cheaper to address minor chimney issues
before it turns into major repair
needs.
2. Choose a chimney sweep that offers additional services
You want to choose a company that can help you in a variety of different areas.  Doing so allows for you to take full benefit of their expertise.  Otherwise, you will ultimately end up hiring more than one company – and there is simply no reason for this. Some of the most common services offered include:
Cleaning of chimney
Masonry repairs
Flashing repair
Waterproofing of chimney
Crown and caps repair
Purging of smoke chamber
In addition to cleaning the chimney and fireplace, it is also beneficial to look at any other services that the company might offer, such as dryer vent cleaning. After all, once you find a company, it's best to rely on them for various other services around your home as well.
3. Read Up on the Chimney Companies Reputation
You should always look into the reputation of the company.  Your research should include sources such as online reviews, testimonials and their membership with professional organizations like the
Chimney Safety Institute of America (CSIA)
.  Past customers reviews are a powerful resource.  If a large number of homeowners in your area have good things to say about the company, you are likely to have a similar experience.  Positive reviews will help you makes sure the company that understands
how to sweep a chimney
 in a professional manner.  Taking a little bit of time to investigate the company before you hire them will ensure that you get the best services at the best possible price.
4. Find Out About Chimney Sweep Licensing
Washington DC requires that companies who provide chimney services to be licensed.  You want to make sure that the business that you choose is licensed and insured. Being licensed shows that they are professional and have taken the proper steps to be compliant with the regulations.  If you allow a company to come in and they are not licensed or carry adequate insurance, any damage could potentially be your responsibility.
5.  Ask for a Quote
You also need to ask for a quote for the services that you require.  Pricing should be relatively straightforward. When you get into repairs and installations, the company might need to come out and provide an inspection before they can provide a quote.   Most companies charge for inspections and cleanings.  However, they should not charge a fee to provide a price quote.  Unfortunately, there are some cases where a quote cannot be given without performing a full inspection.