Why gas chimneys must be cleaned
You may have heard that a wood-burning fireplace needs to be cleaned every year.  A homeowner in Howard County recently asked us if they need to have their gas burning fireplace cleaned.  Gas fireplaces are considered much cleaner and safer than their woodburning ancestors, but they can develop issues over time.  Many people don't realize that gas fireplaces also experience buildup and need regular maintenance to work at their best. There are many reasons why gas chimneys must be cleaned every year.  Read on to find out more: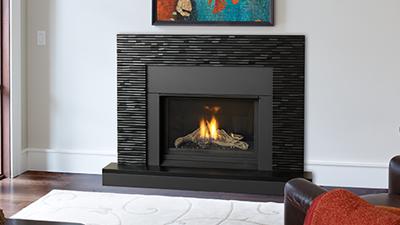 Why a Gas Chimney Needs Yearly Cleaning
There are a wide variety of reasons why you should have your gas fireplace cleaned and maintained. Poorly maintained gas fireplaces can be dangerous.  In some cases, it may be legally required. Depending on where you live, your insurance, city, or county may require regular chimney inspections and cleaning. Skipping this can get you hit with fees or even affect your insurance status.
Ease of cleaning is one of the many reasons to choose gas fireplaces.  However, over time some buildup will occur. It's important that this buildup is safely cleared away on a regular schedule. This typically means once a year, depending on use. A good time to schedule cleaning is at the end of summer or in the fall before the cold temperatures hit.
Why Chimney Sweeping Matters
What could happen if you don't get regular cleaning and servicing?  Here are three common scenarios:
Scenario 1:

A residue has built up in the chimney, often paired with a cloudy film inside the glass viewing doors.

What's the problem? The residue could ignite, starting a chimney fire.  This is a potentially extremely dangerous situation that could cause permanent damage to your chimney or home.

Scenario 2: You see damage to the doors, mortar, or crowns.

What's the problem? Chips, cracks, and poor seals could let moisture leak into the system, causing other problems.
The problems continue:  This might also allow toxic fumes to leak out of your gas fireplace and into the air you're breathing.  Carbon monoxide is the big concern here.  It's odorless and can sicken or even kill people.

Scenario 3: Over the summer, a blockage developed in the chimney.  This is often caused by birds building nests.

What's the problem? This scenario could trigger a cascade of problems including chimney fires and, through poor airflow, carbon monoxide could infiltrate your home.
What's Involved
When a technician from a professional chimney service like our company, All Pro Chimney Service performs a fireplace inspection and cleaning, he or she will start by looking at the exterior and interior of the unit. A major part of the inspection is checking that your chimney is operating correctly. This means looking for signs of both exterior and interior damage as well as making sure that the flue is clear.
If you haven't used your fireplace in a while, some debris may be blocking the flue. This could include birds making nests, which often happens in the spring and isn't noticed until temperatures drop in the fall. Another culprit is bad weather that blows debris and leaves inside.
The technician may also talk with you about any concerns or issues you've had. Next, he will check to make sure everything is operating correctly. If there's a problem, it's addressed. The next step will be a cleaning that removes residue from the chimney, vents, and glass panels.
Some inspections will include other, related services. For example, the technician may check that your carbon monoxide detectors are working correctly. If you want to replace your ceramic fireplace logs or have something else installed there, this is a good time.