Chimney Services in Potomac, MD
Homes in Potomac, MD, often have fireplaces. They provide homeowners a cozy place to lounge in front of the fire. If you are thinking about selling, you should know that a fireplace can also add value to your home. Homeowners in Potomac, MD, and the surrounding areas want their homes to remain safe, attractive, and comfortable. As a result, they rely on the professional team at All Pro Chimney Service to keep their chimneys, fireplaces, and other hearth appliances in good shape. All Pro Chimney is the areas preferred chimney service company.
Why choose All Pro Chimney Service
We make sure that our customers are given the best chimney service in Potomac, MD. We are passionate about helping you enjoy your fireplace. We also are:
Proud members of the National Chimney Sweep Guild (NCSG) and the Mid-Atlantic Hearth, Patio & Barbecue Association (HPBS)
A company with technicians who attend yearly training to stay current on industry trends
The only ones to offer the full range of hearth-related services from products and installations to ongoing maintenance needs
Committed to giving fair, accurate estimates


Chimney Sweep Services
Among all the chimney services you can find in Potomac, MD , chimney cleanings are vital to your fireplace condition. An annual chimney cleaning is important in order to avoid creosote and soot build up. Creosote inside your chimney can cause dangerous chimney fires. Wildlife can get in and build nests that cause problems. A certified chimney sweep from All Pro is trained to inspect your chimney before cleaning (no charge for cleaning if it is not needed) and keep your home clean.
Chimney Inspections
Before any chimney service is performed on your household fireplace, we always conduct a chimney inspection. All Pro does three levels of chimney inspection because every situation is different. You may be selling your home, and potential buyers are concerned about the state of your chimney. That would require an in-depth inspection. Our technicians will do the level of inspection that you need. You can ask questions and be confident about what is being done.
In a Level I inspection a certified chimney sweep verifies that the chimney structure is sound and that the chimney is free of obstructions and combustible deposits, such as creosote. All Pro Chimney Service includes a level 1 inspection with every cleaning.


The addition of a new home heating appliance or a change in the type of fuel a homeowner is burning requires a Level II inspection. This inspection level is also required for the sale or transfer of property or after an operating malfunction or external event that is likely to have caused damage to the chimney. The scope of a Level II inspection includes that of the Level I inspection plus the inspection of accessible portions of the attics, crawl spaces and basements. It may also require a video scan of the flue systems.


When a Level I or Level II inspection suggests a hidden hazard and the evaluation cannot be performed without access to concealed areas, a Level III inspection is recommended. This type of inspection confirms the proper construction and condition of concealed portions of the chimney structure and the flue. Level III inspections are necessary when investigating an incident that has caused damage to a chimney or building, or where a hazard is detected and suspected.
if you wish to know more about chimney inspections service, here is an article that will help you out.


Chimney Repair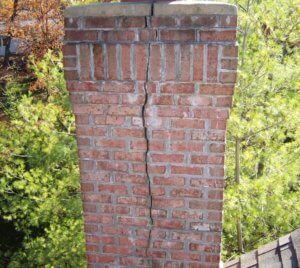 A well-done Chimney repair service will keep your home from further damage. All Pro Chimney is your source for professional chimney repairs around Potomac's, MD. Reason being, our technicians can provide long term solutions to your chimney problems. Here are some of our Chimney repair services:
Crown repairs
Waterproofing
Tuck-pointing
Spot-cutting
Chimney rebuilds
and more


Fireplace Installation
Does your existing fireplace need to be replaced? Would your dream bedroom have a gas fireplace you could turn on remotely? We can help because All Pro offers Potomac's homeowners a wide variety of fireplaces and stoves in many styles and fuel types. Our experts can look at your home and suggest the best option for each location. We carry, install, and service all of your chimney needs.
Wood stove inserts
Gas fireplaces
Free-standing pellet stoves
High-efficiency wood-burning fireplaces
The best brands in the industry
Choosing the right fireplace can be challenging. Fortunately, we provide you with all of the information that you need to make is an easy process.


Fireplace Repair
Sooner or later, fireplaces need to be repaired. If the yearly inspection caught the need for repair, then you will be ready for the season. Sometimes though, something happens to affect your fireplace, and you are in the cold.
Because All Pro Chimney Service is local, we can be there for you. We know how to get your fireplace up and running and can repair all kinds of fireplaces and stoves. Whether your gas fireplace is malfunctioning or your wood-burning fireplace has stopped working, you can call All Pro.
We are the fireplace, hearth, and chimney professionals you can trust, giving quality service at competitive prices.
Montgomery County Service Areas
Chevy Chase, MD | Gaithersburg, MD | Germantown, MD | Rockville, MD | Silver Spring, MD | Takoma Park
OTHER CHIMNEY SERVICE AREAS
Anne Arundel County, MD | Baltimore, MD | Carrol County, MD | Calvert County, MD | Charles County, MD | Howard County, MD | Prince Georges County, MD | Washington DC | Virginia |