Summer Mantle Decoration Ideas
[2020 edition]
During the hot summer days in Washington DC, many people are only thinking about their fireplace in the cooler months. Once the fireplace is not running, it often gets ignored but this overlooks some great potential. The mantel is a perfect place to express yourself. It can change with the seasons or with your mood.  During our chimney inspections, we see plenty of homes with beautiful mantel decorations.  It is proof positive that you can easily decorate your mantel so that it adds flair to the room. If you are struggling with the many ideas that require a person to have some crafting skills, there is good news! You can use these suggestions even if you are not one of those handy people who know how to sew and create crafts.
Prepare Your Mantle Space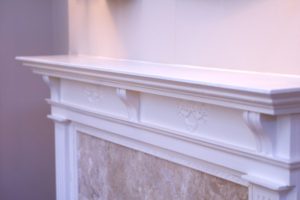 Every room benefits from being clean. Spring cleaning is particularly attractive because the house gets opened up, fresh air enters the space, and winter's accumulated grime is gone. The mantel of your fireplace needs to be empty and clean before you do anything else. This gives you a chance to get rid of the heavy winter accessories that made the winter hearth cozy and clears the way for what you will do for the coming season.
Remove everything from the mantel. This is a perfect opportunity to evaluate what was there and get rid of what you no longer like. If there have been white light strings or neutral candles used during the holidays, keep them accessible. Store the rest.
Wash down the mantel and polish dry. If it is not a washable finish, vacuum every crevice.
If a new coat of paint is needed, now is the time to paint. Be sure to let the paint cure according to the directions so that anything placed on it will not damage your new surface.
Take note of any electrical outlets or other features that could be helpful. Some mantels have hooks for decorations, for instance.
Use lighting to decorate your fireplace mantel
h lots of empty space and clean lines. Others like layers of detail and color. The small space of a mantel provides a perfect place to experiment with different looks before deciding on one. You can easily add more things or take away something in a few minutes if you don't like it but you need to be able to see what is there. Lighting changes the way everything on the mantel is seen, so lighting is the feature you cannot ignore.
Strings of lights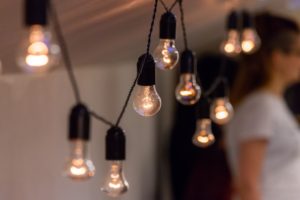 The structure of the fireplace and mantel can be something you love and wish to highlight by placing a single string of warm white lights across the back of the shelf. This will illuminate the entire piece. Putting goblets or other attractive glass items in front of the lights will reflect and scatter the glow.  Select a light string with wires that will blend with the background color of your mantel.
Light draw eyes to the mantel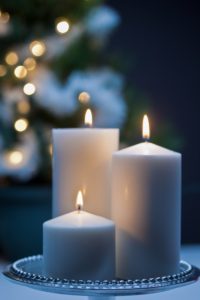 A cluster of candles or lights will draw the eye and distract from a mantel design you aren't fond of. Simply pile the string of lights around the items you want to highlight on one side of the mantel for a casual, summery vibe. The eye is drawn to the lights instead of the mantel detail.
Warm lights are the best option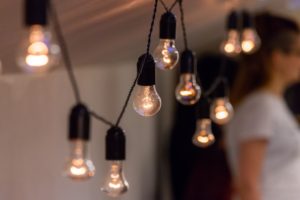 Use the warm white lights rather than cool white to mimic the natural look of a candle flame. The limited spectrum in cool white lighting makes most people feel like they are in an office or clinic. If you use candles as well as lights, the difference between flame and bulb is distinct. A mantel is part of a fireplace and flame so the warm white lights are appropriate.
Batteries operated lights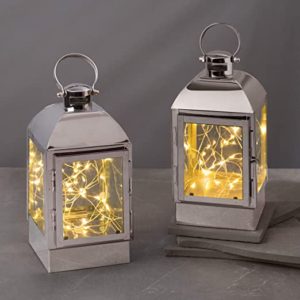 If you do not have leftover warm white light strings or candles, invest in some that appeal to you. If there are no outlets, battery-operated lights are readily available. Unscented white or cream candles will be able to go with whatever they are beside and span every season of the year.
For some, candle flames make the room feel hot. The use of battery candles and light strings eliminates this problem.
Decorative bulbs for a special touch to your fireplace mantel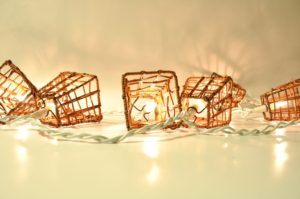 You may want to use a light string that has special bulbs or decorative features. This adds to the detail but can limit the use of the light string for multiple seasons. It is up to your preference as to design features like crystalized bulbs, metal basketwork over the bulbs, and the many options available. Look at a decorative lighting section and take your pick.
Shop Your House
Summertime is usually thought of as casual, airy, and bright. Your summertime mantel can be a refreshing change from what is usually displayed by keeping things simple. Look around for the things you love. Your mantel is a perfect place to have a temporary gallery of memories and cherished things arranged in attractive ways. Take this list of possibilities and see what you can find to make your own display. Remember to experiment with the lights before deciding how to finally place them.
Add a beach theme to your mantel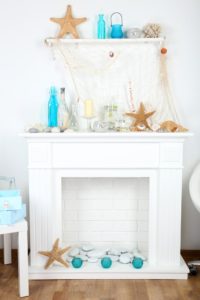 A trip to the beach can become a few jars of beach glass, (washed) shells, rocks, etc. with a few pictures from the day leaned against them. Add some glass drops and clear balls from the dollar store to look like bubbles.
Put special moments on display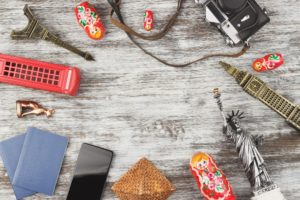 A planned vacation to revisit the mountains can be anticipated by putting up a map of that location and some souvenirs. If you have books on the area, use a few to create a platform for those souvenirs.
Show your special collections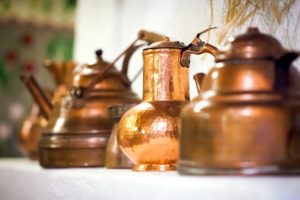 A cherished collection can be anything – Pez dispensers, Funko Pops, Pokemon, or teapots. Whatever you collect, display a few among that string of lights and elevate a few for interest.
Add a personal touch to your mantel with photos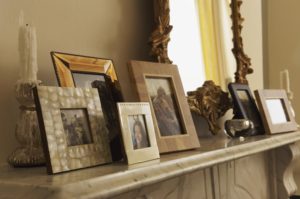 A photograph can be a beautiful part of a mantel display. Place a large framed photo on one side of the mantel and three smaller photos on the other side. Put the smaller photos in front of the large one for a different look. You decide!
Glass and water work great together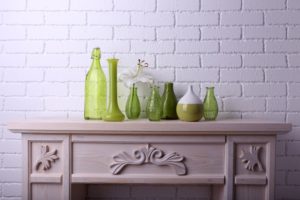 Jars or glasses full of water will reflect light in neat ways. Try adding food coloring to the water for different colors.  A few crystal goblets with tea lights in them can look very elegant.
Plants add some freshness to the room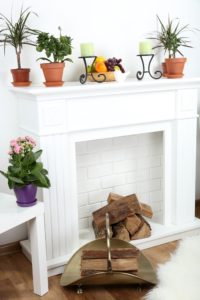 Plants are always a part of summer. A single vase or several jars with some branches or flowers can be very peaceful and appealing. Strip the leaves and blossoms off the stems that will be under the water. Put your selection in gradually and be flexible with the arrangement.
A long, trailing branch going across the mantel from a jar of mixed flowers and branches draws the eye to the bouquet.
A solitary stem or branch in a narrow-stemmed vase or bottle looks best at one side of the mantel rather than in the middle. Put a couple of small items with it to follow the rule of three and see if you like it.
Many low-light plants, like pathos vines, do well on a mantel during the summer months because there is no heat from the fireplace.
Air plants are an easy way to add some greenery to any arrangement because they do not require pots.
Photograph Your Efforts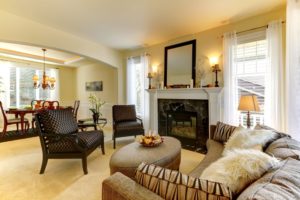 Did you ever take a photo of something in your home and realize the background was a mess? There is something about a photograph that brings out the details we have stopped seeing in our surroundings. That is why taking a photograph of your efforts is such a great idea.
Your camera or phone probably has a setting for a grid of 3×3. This setting is a huge help in seeing the composition of your arrangement.
Take a picture of the mantel with the lights on and one without the lights to see if you want to change where it is illuminated.
Play with your arrangement and document your changes so you can see which things you like best.
Summertime is Play Time
Ultimately, the summer mantel decorations offer a temporary vacation from the rest of the year and the usual hearth decorations. This means you have the freedom to make mistakes and change things. Playing with the vignettes you put on your mantel and fearlessly experimenting with different looks is a fun way to refresh your room and add to your enjoyment of the season.
Need ideas for holiday mantel decorations?  Read this article.