What you need to know about gas fireplaces
There is a growing trend of gas fireplaces installations like ours in Washington DC.  There are many reasons for this pattern.  Some homeowners love not having to clean up ash.  For many other homeowners, it comes down to how easy they are to use.  Gas fireplaces also require fewer chimney repairs.  There are many aspects to gas fireplaces.   Below is essential information that you will need to know about gas fireplaces.

Advantages of Gas Fireplaces


Easy to Use
Gas fireplaces are incredibly straightforward and easy to use. The temperature can be set quickly, and they typically can be turned on or off at the push of a button.  Just press a button and enjoy the warm, toasty feeling that you always want in the winter.
No Carrying or Chopping Wood
There is nothing fun about carrying stacks of wood in the bitter cold of winters in Washington DC.  Chopping wood in the inclement weather is even worse.  Even if you pick up wood from a local store, you still have to carry it.  Many people choose gas to eliminate these inconveniences of carrying, chopping and handling the wood. The hassle of handling wood is a common reason why many people change their convert their wood-burning fireplaces into gas as you see here.
Easy Clean-Up
Wood leaves ashes when it burns.  Gas does not. You don't have to scoop out ashes when you're done or clean soot off the grids of your fireplace.
Read this article to learn the additional benefits of gas fireplaces.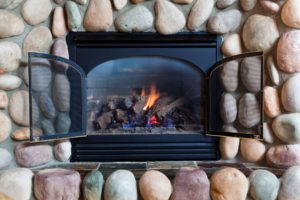 Disadvantages of Gas Fireplaces
Higher Purchase Price
Perhaps the most significant obstacle of a gas fireplace, on the other hand, can be summed up in a single word: cost. According to the experts at HouseLogic, gas fireplaces have purchase prices that range 20%-30% higher than other options.
Higher Fuel Cost Compared to Wood
Gas fireplaces, as their name suggests, burn natural gas instead of wood or other fuel sources during operation. Depending on how much you're paying for natural gas in your area of the country, along with how often you have the gas fireplace on in the first place, you could easily be looking at an operational cost of several thousand dollars per season.
With wood, on the other hand, all you have to concern yourself with is the cost of wood. Buying bundles of wood from a store are usually cheaper than natural gas.  If you have a tree in your backyard that you've been thinking about chopping down all summer long, you've got enough wood to last you quite awhile to be sure.  However, you may need to ask yourself what you are going to do the next season?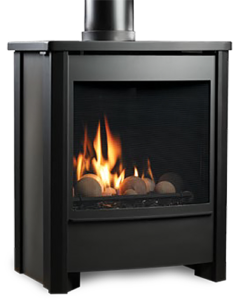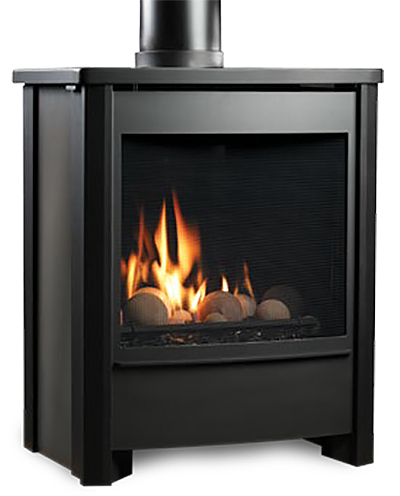 Types of Gas Fireplaces
Note that there are also a few different types of gas fireplaces that you can choose from depending on your needs. These include ones like:
Gas Logs
These are the cheapest option concerning gas fireplace installation, as they're mainly just a stack of ceramic logs with a built-in gas burner that sits inside your existing fireplace.
Fireplace Inserts
Gas fireplace inserts are installed within an existing fireplace opening.  In doing so, they convert inefficient wood fireplaces into energy efficient, easy to use gas fireplaces.
Free Standing Fireplaces
As the name suggests, these are free standing gas fireplaces that do NOT require your home have an existing fireplace or a chimney installed. Free standing fireplaces vent through a metal pipe that extends from the unit out the roof.  Installation requirements result in this being the most expensive gas fireplace option.
Ventless Fireplaces
Gas fireplaces are also available in "ventless" and "vented" varieties. Vented options discharge all heat and exhaust up a chimney, while ventless units discharge into your house.  Manufacturer of ventless fireplaces claims that the discharge does not present a health risk.  However, many chimney professionals do not offer ventless out of safety concerns created by gases being released in the home.  We do not recommend going with ventless units.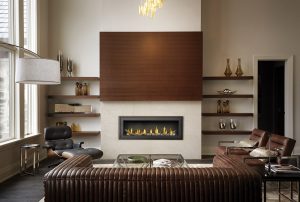 Properly Maintaining Gas Fireplaces: Things to Consider
Once you've installed a gas fireplace in your home, the final thing you have to concern yourself with is maintenance. Gas fireplaces are far easier to maintain in the long run than their wood-burning cousins, but that doesn't mean that there aren't a few things to keep in mind.
Remember that dust, dirt and other elements can build upon the ports of your gas fireplace – eventually leading to clogging and inefficient burning. Always make sure to safely clean this build up at least once every few weeks for the best results.
You should always have an annual inspection, cleaning, and adjustment of your gas fireplace performed to help address small problems before they have a chance to become much bigger and more expensive ones down the road.
Clean the glass on both sides of your gas fireplace with glass cleaner at least once per month to prevent buildup.
If you have a vented gas fireplace, always pay careful attention to the unit's outside vent to make sure that dirt or debris are not blocking it.
Inspect the gas fireplace gasket at least once a month to make sure that it isn't cracked or missing any pieces. If it is, get this issue taken care of immediately.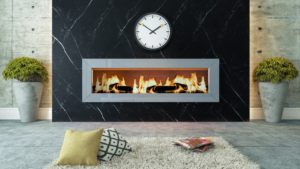 Gas Fireplace Installation: Breaking It Down
The gas fireplace installation process itself isn't necessarily the most complicated task in the world, but it should not be seen as a DIY project.  We strongly suggest hiring a licensed chimney company to install your gas fireplace.  Here are some of the steps involved with installing a gas fireplace.
Review the manufacturer's directions before choosing a location for your fireplace so that you are aware of all required clearances. Clearances from the fireplace box to the surrounding walls (along with the wood framing) will be specified in these directions.
Note that the vent will also need to be kept a certain distance away from insulation, wood and any other type of material that might combust.
Start by building a fireplace platform, which acts as a foundation to keep the base of your fireplace up and off the ground so that heat has a way to dissipate during use. You'll typically build the frame (again – follow the specific manufacturer's directions), cover it with drywall or another recommended material and secure it in place.
Unless you're using a ventless gas fireplace (which we do not recommend), you'll need to punch a hole in the wall of your home to install the vent that will eventually attach to the fireplace itself.
Once the actual fireplace unit is in place on top of the frame, you'll need to build the wall surrounds that both help to keep it in place and help it achieve the desired look and feel.  After this, you'll likely want to add a mantel to the top of the structure for the sake of functionality.
At this point, you'll also need to run a gas line directly to the gas fireplace unit itself. You may even need to run an electrical line if you're installing a fan, remote control or another type of optional item.
Now, you're ready to finish everything off. Once the gas fireplace unit is secure and in place (and you don't need immediate access to the rear to install gas or electrical lines), you can cover the area in wood and drywall and paint to give it the proper finishing touches.
As you can see, there are many steps involved in installing a gas fireplace.  It is important to remember that you are dealing with something that generates heat.  When done correctly, installing a gas fireplace is lovely.  When done incorrectly, it can threaten the safety of your home.  Improperly installing a gas unit can lead to house fires.  It is always best to hire a professional repair technician.
Conclusion
If you're looking for a straightforward and efficient way to heat your home during those cold winter months of the year, you'd be hard-pressed to find a better option than gas fireplaces.  Pick the right type to fit your needs.  Perform the recommended maintenance and your investment in a gas fireplace will serve you and your loved ones well for years to come.