Chimney Sweep and Inspection in Fairfax, VA
Having a home with a fireplace is a great thing.  There is nothing like the warmth of dancing flames on a chilly winter night.   All Pro Chimney provide chimney sweep services that allow homeowners to continue enjoying their fireplace.   We will arrive on time, inspect and clean your chimney and make you aware of any repairs that may be needed.  All of that service is provided at reasonable rates.  All Pro Chimney is your source for chimney sweeps in Fairfax, VA.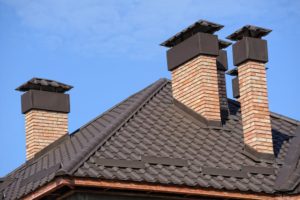 Why Choose All Pro Chimney
It's important to look for certifications and professional associations when choosing who will work on your home. All Pro is a member of nationally recognized professional groups:
Chimney Safety Institute of America (CSIA)
National Chimney Sweep Guild (NCSG)
National Fireplace Institute (NFI)
Mid-Atlantic Hearth, Patio & Barbecue Association (HPBA)
Master Hearth Professional (MHP)
All Pro Chimney Services is a local, family-owned company that has a stake in the community. Our technicians have regular training on local codes, updates, and new technology in the industry. We make sure that our customers are well informed.
How Often Should You Have Your Chimney Cleaned?
All chimneys should be cleaned a minimum of once per year.  However, there may be a need for more frequent cleaning.
How often do you use your heating appliance? Frequent use means more heat and related gasses are being vented through your chimney.
What type of fuel are you using? Different fuels affect your chimney differently. The type of wood used in a fireplace, for instance, determines how much creosote will build up in your flue.
At the minimum, your chimney and venting system needs to be inspected yearly and cleaned if there is any obstruction.
The National Fire Protection Association (NFPA) also recommends that dryer vents be cleaned and inspected yearly. All Pro offers dryer vent cleaning services, too.
How All Pro Sweeps Chimneys
If your chimney needs cleaning, our technicians follow a procedure that will leave your home safe and clean:
Our teams are scheduled to arrive on time and ready to clean your chimney.
Drop cloths are put down to protect your home during the procedure.
Our certified chimney sweeps perform a level one inspection to make sure cleaning is necessary before starting. If it isn't, you only are charged for the inspection.
We clean your chimney and make sure your flue is intact.
Debris, ashes, and deposits are thoroughly removed from your home's flue system and safely removed from your home.
Any repair needs are noted. Minor repairs can often be done during the visit for a discounted price since we are already set up. Further repair needs will be drawn up in an estimate sheet so you know what should be done. You can ask questions and get answers so that informed decisions about your home are made with confidence.
Levels of Chimney Inspections
According to the National Fire Protection Association Standard 211 (NFPA 211), your chimney, fireplace, and vents need to be inspected at least once every year. Every All Pro inspection at every level is done by technicians who are certified and familiar with Fairfax, VA codes as well as national standards. You get a written inspection report, pictures and an estimate on any needed repairs.
Level One Inspections are done with easily accessible systems when the homeowner plans to maintain current usage. All Pro does a Level One inspection before cleaning and will not charge you if cleaning is not needed.
Level Two Inspections are done when there is a new home heating appliance, change of fuel, property transfer, or damage to the chimney.  Level Two inspection include a level one inspection plus inspection of accessible spaces in the home. The technician also performs Video scans of the chimney.
Level Three Inspections require more in-depth investigation into concealed areas to confirm the construction and condition of your chimney structure and the flue.  Level three inspections are most often completed when an incident has damaged your home, or a hazard is detected during a lower level of inspection.
Chimney Sweep & Inspection Service Areas
Maryland
Anne Arundel County | Baltimore | Clarksville, MD | Columbia, MD | Ellicott City, MD | Gaithersburg, MD |  Germantown, MD | Highland, MD |  Howard County  |  Montgomery County | Potomac, MD | Prince Georges County | Savage, MD |Scaggsville, MD | Silver Spring, MD
Virginia
Alexandria | Arlington County | Fairfax County |  McLean/Tysons | Prince William County | Vienna 
Other Chimney Services
Chimney Sweeps/Inspections | Chimney Repair | Fireplace Installation | Fireplace Repair